PUBG "DUO" COMMUNITY EVENT : "Rise of Legion" (ROL)
Sponsorship: Lenovo
Game: PUBG
Mode: DUO / FPP(Rounds 1, 3 and 5) & TPP(Rounds 2, 4 and 6)
Group: 6 Groups (80 people per group / 40 duo teams)
Rounds: 6 Rounds in total / Rounds 1, 3 and 5 in FPP / Rounds 2, 4, 6 in TPP
Total participants: 480 players / 240 Duo teams
Map: Erangel (Game 1) & Miramar (Game 2)
Server: AS
Register Dates: 1st July – 1st August 2018 / Time will be at 03:00 PM (Thaime) Thailand [GMT+7.00]
Event will span over 6 weeks:
Week 1 (Round 1) August 7 - 9 >> FPP
Week 2 (Round 2) August 14 - 16 >> TPP
Week 3 (Round 3) August 21 - 23 >> FPP
Week 4 (Round 4) August 28 - 30 >> TPP
Week 5 (Round 5) September 4 - 6 >> FPP
Week 6 (Round 6) September 10 - 12 >> TPP
Details breakdown:
The team mode will be Duo, in which there will be rounds of FPP & TPP
The groupings, in total there is 6 groups. In each groups there will be 40 Duo teams, this means there will be 80 players per group. In each week of the event, there will be 3 event days. Where 2 groups will be assigned their day and play. In total the tournament will be on-going for 6 weeks.
Each group will be randomized, after each week , there will be a new randomly generated group in which you will be assigned to.
There will be no eliminations in this event. This is a ranking and scoring event throughout the 6 weeks.
If players do not show up for the match or revoke their position within the event a reserved duo team will take their place. If the reserved duo team will then become the main team and the duo team which left, will be put in the reservation list.
Scoring Table:
1 kill = 3 points.
Notices: 1. In the cases where the rankings are matched and 2 teams are in a draw, the amount of kills will determine the rankings. In the cases in which the amount of kills is in a draw, the game in which the team had the most kills will be denominator instead.
Rules and Gameplay Settings:
Mode: Duos
Server: AS
View mode: First person & Third person
Weather: Sunny
Maps: Erangel (Game 1) & Miramar (Game 2)
Vehicle Settings

Weapon Settings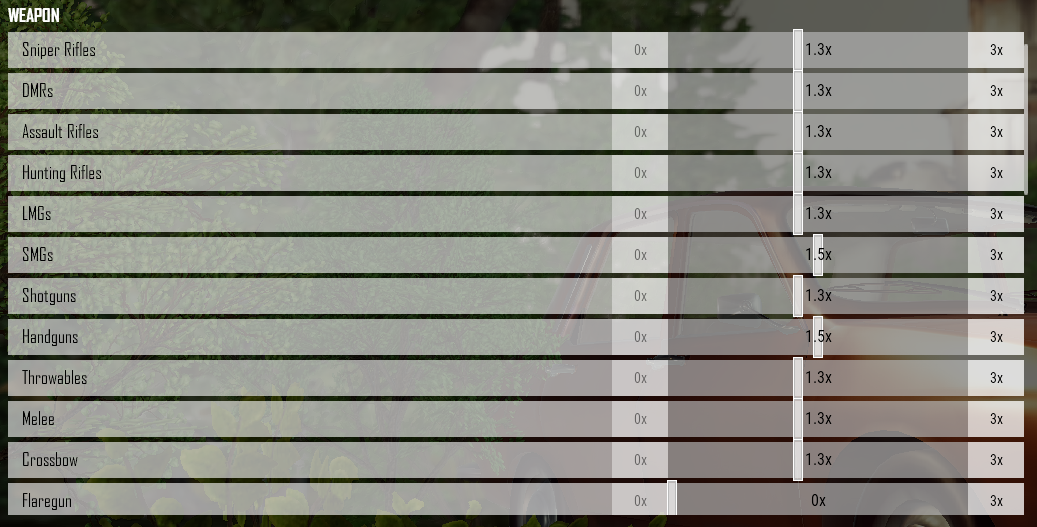 Attachment Settings

Consumables Settings

Equipment Settings

ETC

ENVIRONMENT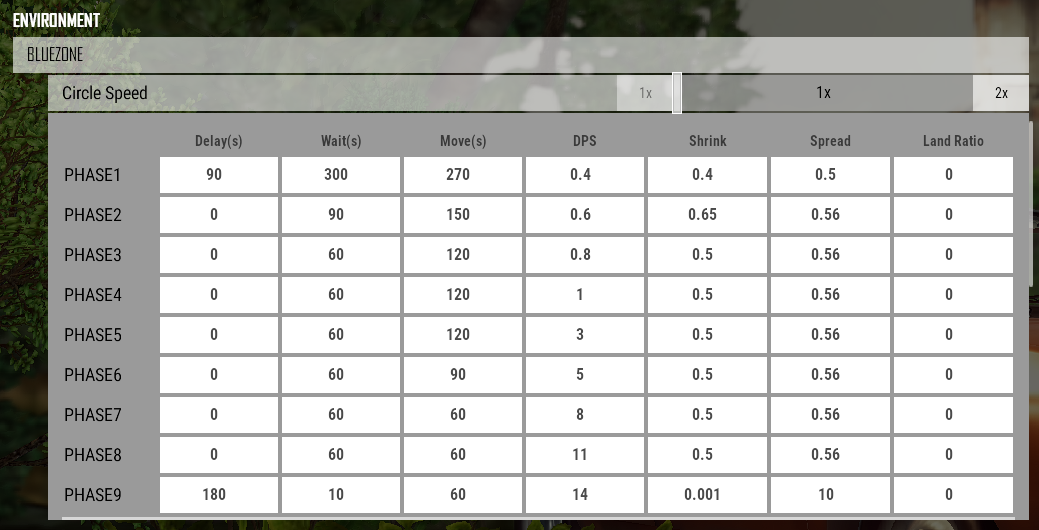 OBSERVER

Prizes:
At the end of each round, players will be given their prizes depending on their rankings and kills and part of the prize pool in steam cards, this won't be immediate and players will have to wait.
****IMPORTANT**** PLEASE MAKE SURE YOUR STEAM COMMUNITY URLS WHICH LINKS TO YOUR STEAM PROFILE IS CORRECT.
Time Settings:
*Players/Teams will be placed in a time slot.
*Players who have VAC ban or new accounts will have to record their gameplay
Cases of inconvenience and problems experienced during the event:
In the case that the server has a problem and everybody disconnected. We will wait until the server is back online and running properly before running it again.
In cases of players/teams disconnecting from the server room:
-As this is a problem we cannot dictate and control, there won't be any restarts, but we will still take their points into account regardless.
In cases of players/teams stuck in lobby and everybody else is in the plane:
PUBG itself will give you a message that your internet connection has a problem, therefore you cannot play in the game.
To lower this risk what you can do is test your connection before the event as well as making yourself active when within the lobby such as clicking on the stats or costumes as you may disconnect due to being afk.
However, in the case that more than 15 players disconnect from the server in a small period of time, the round will be reset.
Instances of Bugs found within the game:
-Provide a clip of evidence of the bug and send it to the support team/admins
-The admins will judge the evidence and get back to you on it.
Instances of Cheating found within the game:
-if found clearly using 3rd party programs to advance your gameplay, if you have won a prize, that will be cancelled immediately. Players will also be banned from the event as well as future event.
-If the player who cheats ruins the game for other players, there will be a vote by the admins on what will happen and there is a possibility of completely restarting the game.
-Exploitation of bugs that give an unfair advantage to a players gameplay will count as cheating.
Instances of inappropriate behavior and language used within the game:
-If a player is accused of inappropriate, please record the incident and send it to the admins.
-Once judged if the player is found to be behaving inappropriately such as being racist and rude, they will be disqualified from the event.
Streaming the Event Rules:
Set Delay settings to 7 minutes.
****PLAYER NOTICE*** Please make sure all the required information is filled in correctly including your in-game name within PUBG.
In the case that your steam ID is incorrect, admins have the right to revoke the prize and is not responsible for any inaccurate information given to them.
Regis closed